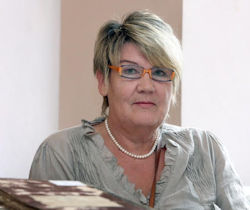 Having finished my University studies in graduated from Vilnius University (the oldest one in East Europe), specialization - archyvistics, master's degree. Has twenty years experience in genealogy research, location of ancestral sites, translation of records, field research and other services related to genealogy as requested by her clients.
I have been researching Lithuania ancestry since 1994. The research area covers the territory of the Lithuania. The area of expertise covers finding out about one's ancestry, finding living relatives - in fact anything related to ancestral research. In many cases I have successfully collected the necessary documents for my clients for application for settling inheritance cases.

Member:
Lithuanian Society of Genealogy and Heraldry and
Lithuanian RoyaL Union of Nobility.
Services:
Research in libraries, research in archives and parishes holdings, Neighborhood Reconstruction, where the researched families lived, translating texts from and to Lithuanian / Russian / Polish / Latin /.
Our professional draftswoman draws genealogical schemes according to your family data.